Researchers' Society
The Researchers' Society (RS) is run by early-career researchers of the MRC­ Centre for Environment & Health and aims to promote the welfare and career development of researchers across the Centre.
All PhD students, research and technical staff whose Principal Investigator/Project is part of the Centre are members of the Society.
Follow us on Twitter
For more information, please read here: Researchers Society Constitution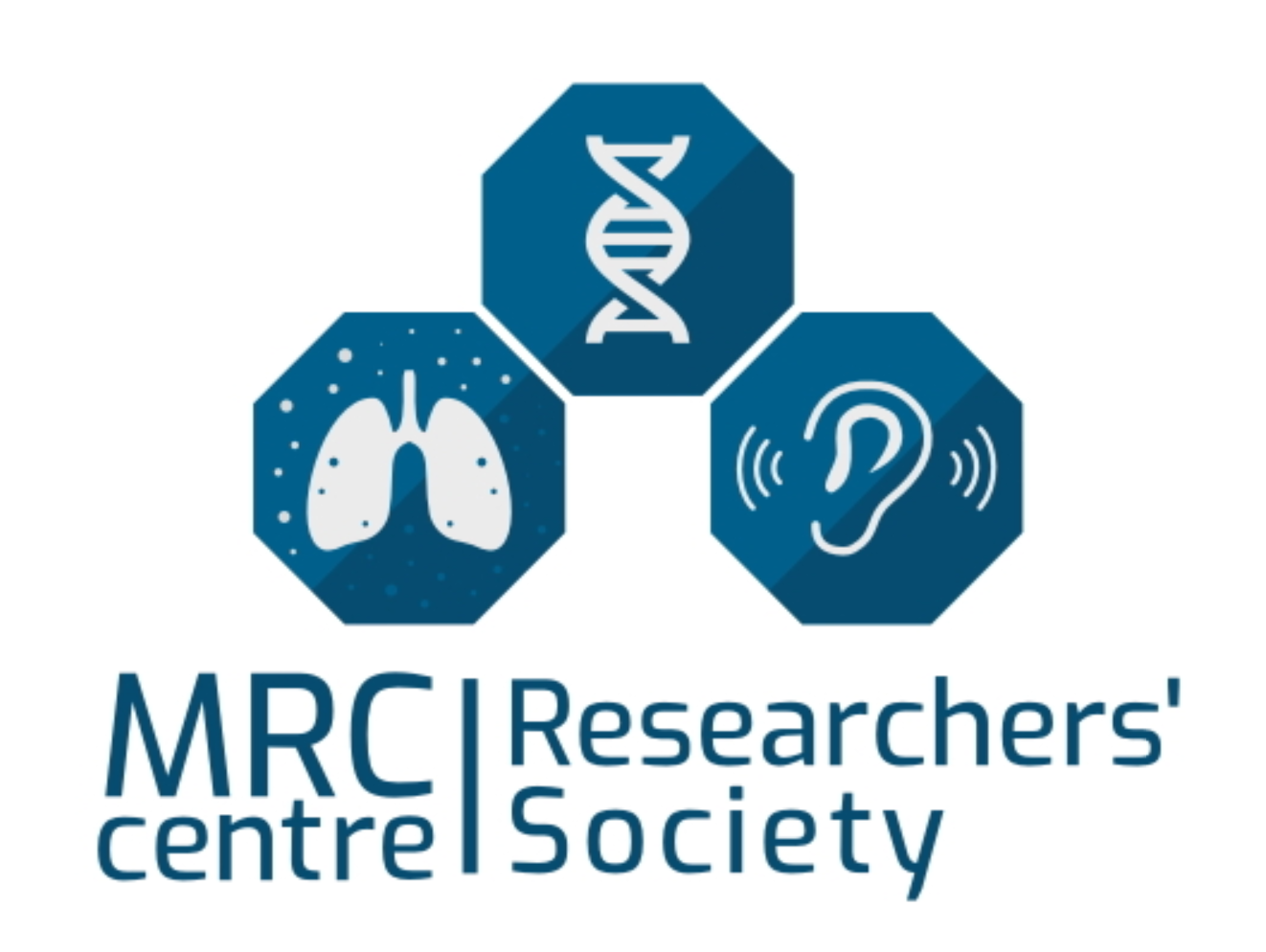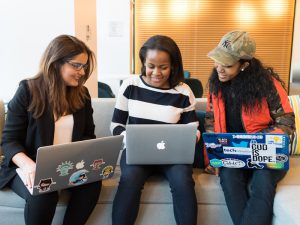 Researchers' Society Committee
The organisation of the Researchers' Society is conducted by the Researchers' Society Committee. Membership of the Committee is open to all members who attend Committee meetings and show an active interest in the running of the society.
The Researchers Society has a representative on the Centre's Executive Committee, as a full member, thereby ensuring that the needs of the Centre's researchers can be presented to the key decision makers.
Researchers' Society Committee Membership
| Aina Roca Barcelo and Annalisa Sheehan | Co-chairs |
| --- | --- |
| Rhiannon Thompson | Wellbeing officers |
| Alex Spiers | Public Engagement |
| Ricky Nathvani | Social Media |
| Dylan Wood and Joseph Levermore | Social Secretaries |
| Mike Hedges | Treasurer |
| Carl Desouza, Allison Gaines, Diana Varaden and Stefan Gillott | General committee membership |
| Dr Fred Piel | Training Programme Lead |
| Dr Fred Piel and Dr Eduardo Seleiro | Senior advisor members (Senior Lecturer in Spatial Epidemiology, MRC Training Programme Coordinator; Centre Scientific Manager and Research Coordinator, respectively) |
Researchers' Society Recent Events
The Story of Plastic
Tuesday 28th July 2020 5-6 pm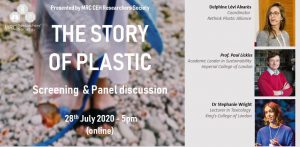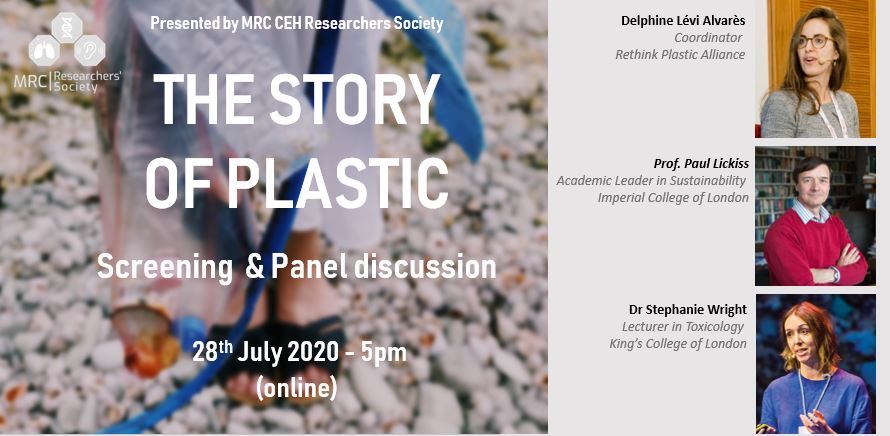 To spread awareness of the environmental and human rights threat of plastic, we are participating in the grassroots screening tour of The Story of Plastic, a documentary by The Story of Stuff Project. Followed by a Panel Discussion with Delphine Lévi Alvarès (Rethinking Plastic Alliance), Prof. Paul Lickiss (ICL) and Dr Stephanie Wright (ICL).
To find out more about the Plastic Free July, and tips and tricks for reducing your plastic consumption visit: https://www.plasticfreejuly.org/
---
Wellbeing II: Art Therapy Workshop
Thursday 23rd July 2020 12-2 pm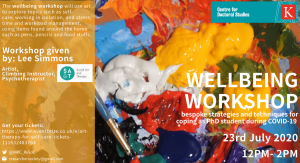 Using items found around the home such as pens, pencils and foodstuffs such as turmeric, tea and coffee, the directed wellbeing workshop will explore topics such as self-care, working in isolation, and stress, time and workload management, using art exercises such as mapping your support network.
The two-hour workshop will be given by Lee Simmons from Social Art and Therapy, an artist, climbing instructor and psychotherapist. Lee has tailored the workshop to focus on the wellbeing of PhD students and early career researchers during COVID-19 lockdown as we find ourselves working more in isolation and having difficulty balancing work, relaxation, time, stress and focus.
---
Wellbeing I: Get your body moving
Tuesday 21st July 2020 - 12-1 pm


Join us and Vincent Merouze for a lunchtime dance fitness session aimed to get you up, moving and releasing important mood-boosting endorphins! The session will be for all levels and abilities, focussing on making you feel good.