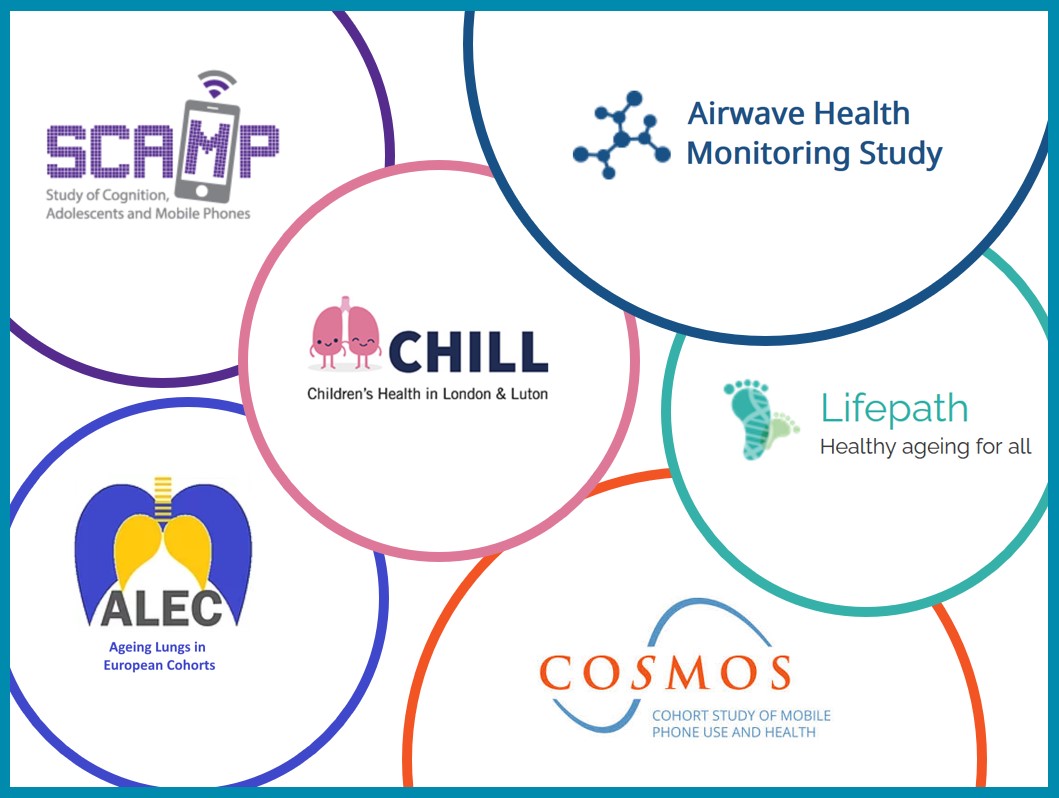 Overview
The Centre's mission to examine environment and health associations depends on data from large groups of healthy people or patients (cohorts) that are large enough to detect the effects and with sufficient information to produce robust results.
The cross-cutting theme on Cohorts and Data Resources aims to maximise the value of the extensive set of cohort platforms led by the Centre or on which it collaborates. The goal is to increase the phenotype and exposure information available in the Centre's cohorts and to expand biological collections, providing opportunities to conduct novel investigations of environment and health and developing research platforms of value for future research.
Airwave
(Elliott) [1,2]
n=~50,000 UK police officers and staff; mean age 40 years at baseline
• Occupational prospective cohort study of the British police forces on possible health effects of TETRA radio system
• Occupational, lifestyle and socioeconomic status information
• Biobank established with DNA, plasma, sera, urine
• GWAS, epigenetics, metabolomics (1H NMR spectroscopy, MS)
ALEC
: Ageing Lungs in European Cohorts (Jarvis)
8 cohorts in multiple countries; ECRHS III; n=26,000
• Multi-cohort study to improve understanding of risk factors for low lung function, respiratory disability and development of chronic obstructive lung disease (COPD)
• Includes European Community Respiratory Health Survey (ECRHS) coordinated by Imperial College
CHILL
: Children's Health in London and Luton (Griffiths [QMUL], Kelly)
n=1,800 primary school children ages 6-9 years in each of London and Luton
• Four-year study to determine whether reducing air pollution from traffic (uLEZ intervention in London) improves lung growth and respiratory health in primary school children; commenced 2018
• Links detailed clinical assessments (lung function, eNOS) with primary care records
• Biobank suitable for proteomic and metabolomics analysis
CLUE
: Cognitive DeveLopment in the Urban Environment (Toledano)
Biological samples n=200; Birth data records n=1,220
• Investigate effects of urban environments on cognitive development due to long-term exposures to air pollution and noise from traffic; commenced 2018
• Subset of the SCAMP cohort
• Measuring biomarkers of exposure (metals) and response (oxidative stress, neuronal injury/inflammation) in urine and saliva
COSMOS
: Cohort Study of Mobile Phone Use and Health (Elliott, Toledano) [3]
n~300,000 internationally, (n~100,000 UK); Age 18+ at baseline
• World's largest mobile technologies-health research study
• Phone traffic data from mobile phone operators in the UK, linked to the NHS Digital patient tracking service. Data on diet, health, lifestyle, home environment, environmental exposures
• Direct follow-up with cohort participants in the UK, via an online questionnaire ongoing with ~40,000 responders so far.
INTERMAP
: INTERnational study of MAcronutrients & BP (Elliott) [4]
n~4,700 Ages 40-59 years USA, China, Japan, UK
• Clarify the role of dietary and other factors in the development of unfavourable BP levels; rural Beijing sample part of AIRLESS
• Clinical measurements and questionnaire data
• Urinary 1H NMR spectroscopic profiling
• Direct-injection mass spectrometry (DIMS) data
Lifepath
(Vineis) [5,6]
N~109,000, 45- 90 years (37 cohort studies, 24 countries)
• Multi-cohort population-based study to assess the association of low socioeconomic status and risk factors for non-communicable diseases with loss of physical functioning at older ages.
• Omics (GWAS, epigenome, proteome, metabolome)
NFBC
: Northern Finland Birth Cohorts '66/86 (Jarvelin) [7]
n~21,000. Data on parents and offspring (total n ~70,000)
• Two prospective birth cohorts of women and offspring collected at 20-year intervals from the same provinces of Oulu and Lapland
• Environmental, clinical disease-related data, available omics (GWAS, epigenome, proteome, metabolome)
SCAMP
: Study of Cognition, Adolescents and Mobile Phones (Toledano) [8]
n~6,600. Age at baseline 11-12 years; Biozone n~2,000
• Effect of mobile phones and/or other technologies on cognitive and behavioural development of adolescents across London
• Cognitive function, technology use, health, lifestyle, social and physical environments, air and noise quality measurements
• Biological sampling of ~2,000 cohort members at baseline and follow-up; additional measurements e.g. lung function
1 -
The Airwave Health Monitoring Study of police officers and staff in Great Britain: rationale, design and methods
. Elliott P, Vergnaud AC, Singh D, Neasham D, Spear J, Heard A. Environ Res. 2014 Oct;134:280-5.
2 -
Validation of objective records and misreporting of personal radio use in a cohort of British Police forces (the Airwave Health Monitoring Study)
. Vergnaud AC, Aresu M, McRobie D, Singh D, Spear J, Heard A, Elliott P. Environ Res. 2016 Jul;148:367-375
3 -
Cohort Profile: UK COSMOS-a UK cohort for study of environment and health
. Toledano MB, Smith RB, Chang I, Douglass M, Elliott P. Int J Epidemiol. 2017 Jun 1;46(3):775-787
4 -
Urinary metabolic signatures of human adiposity.
Elliott P, Posma JM, Chan Q, Garcia-Perez I, Wijeyesekera A, Bictash M, Ebbels TM, Ueshima H, Zhao L, van Horn L, Daviglus M, Stamler J, Holmes E, Nicholson JK. Sci Transl Med. 2015 Apr 29;7(285):285ra62
5 -
Socioeconomic status and the 25 × 25 risk factors as determinants of premature mortality: a multicohort study and meta-analysis of 1·7 million men and women
. Stringhini S, Carmeli C, Jokela M, Avendaño M, Muennig P, Guida F, Ricceri F, d'Errico A, Barros H, Bochud M, Chadeau-Hyam M, Clavel-Chapelon F, Costa G, Delpierre C, Fraga S, Goldberg M, Giles GG, Krogh V, Kelly-Irving M, Layte R, Lasserre AM, Marmot MG, Preisig M, Shipley MJ, Vollenweider P, Zins M, Kawachi I, Steptoe A, Mackenbach JP, Vineis P, Kivimäki M; LIFEPATH consortium. Lancet. 2017 Mar 25;389(10075):1229-1237.
6 -
Trends in health inequalities in 27 European countries
. Mackenbach JP, Valverde JR, Artnik B, Bopp M, Brønnum-Hansen H, Deboosere P, Kalediene R, Kovács K, Leinsalu M, Martikainen P, Menvielle G, Regidor E, Rychtaříková J, Rodriguez-Sanz M, Vineis P, White C, Wojtyniak B, Hu Y, Nusselder WJ. Proc Natl Acad Sci U S A. 2018 Jun 19;115(25):6440-6445.
7 -
Association of pre-pregnancy body mass index with offspring metabolic profile: Analyses of 3 European prospective birth cohorts.
Santos Ferreira DL, Williams DM, Kangas AJ, Soininen P, Ala-Korpela M, Smith GD, Jarvelin MR, Lawlor DA. PLoS Med. 2017 Aug 22;14(8):e1002376.
8 -
Total recall in the SCAMP cohort: Validation of self-reported mobile phone use in the smartphone era
. Mireku MO, Mueller W, Fleming C, Chang I, Dumontheil I, Thomas MSC, Eeftens M, Elliott P, Röösli M, Toledano MB. Environ Res. 2018 Feb;161:1-8.
9 -
Local- and regional-scale air pollution modelling (PM10) and exposure assessment for pregnancy trimesters, infancy, and childhood to age 15 years: Avon Longitudinal Study of Parents And Children
(ALSPAC). Gulliver J, Elliott P, Henderson J, Hansell AL, Vienneau D, Cai Y, McCrea A, Garwood K, Boyd A, Neal L, Agnew P, Fecht D, Briggs D, de Hoogh K. Environ Int. 2018 Apr;113:10-19.