Our Research
Research at the MRC Centre for Environment and Health focusses on the study of the health effects of ubiquitous environmental hazards of major public health and scientific importance, such as air pollution, noise pollution, non-ionising radiation and other agents.
The Centre forms a multi-disciplinary research cluster, covering a wide range of specialties, techniques and approaches. Its research uses exposure monitoring, advanced geographical information systems (GIS) and statistical modelling techniques, combined with experimental data, biomarker and mechanistic studies, and analyses of large population and occupational cohorts to explore environmental health problems of key public health and scientific importance.
The work of the Centre is divided into three major research programmes, reflecting our strengths and expertise. In addition, two core themes cut across these programmes, ensuring an integrated, cross-disciplinary approach to the Centre's research.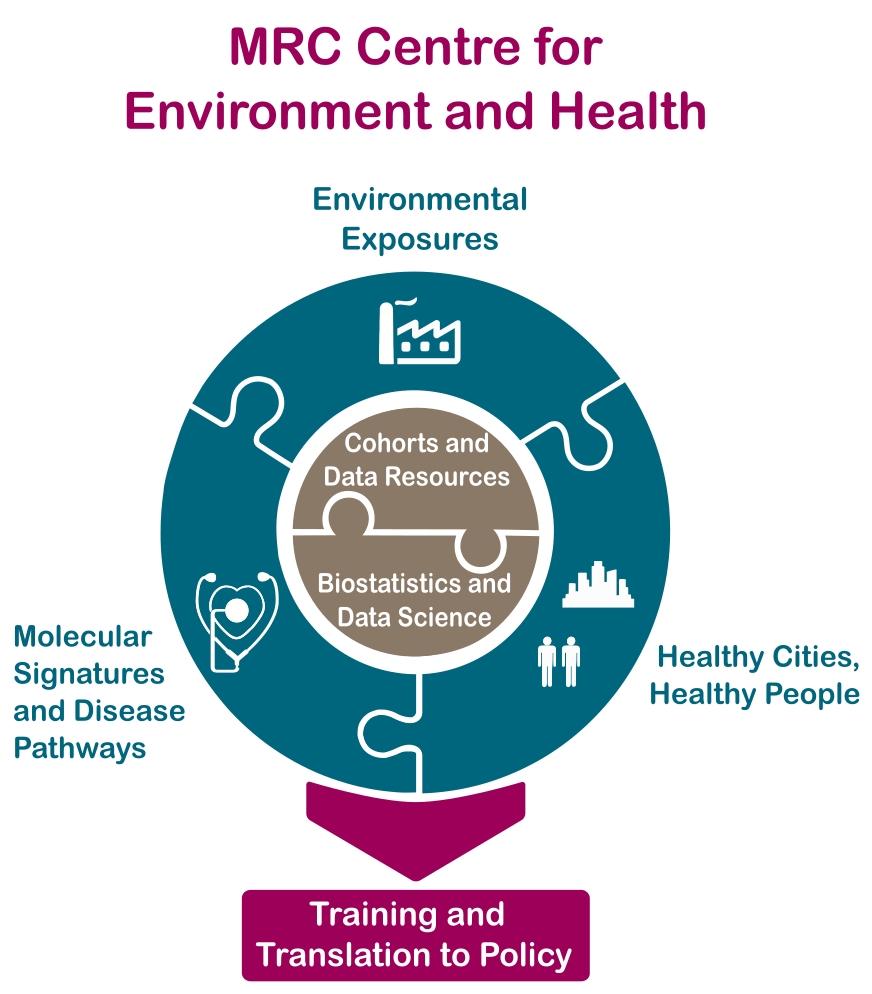 - To advance knowledge of specific environmental pollutants, including effects of air and noise pollution, and non-ionising radiation, on individuals and urban populations

- To improve the quality, accuracy and scope of exposure metrics, helping to establish a more robust and targeted link between environmental exposures and health

- To improve understanding of mechanistic pathways underlying health effects, through the use of advanced omic technologies applied to population studies, to strengthen causal inference

- To develop methods in biostatistics, data science, computational biology and related disciplines to advance research on environment and health

- To develop and enhance the Centre's core resources and cohorts, with a focus on deep phenotyping and biobanking

- To build upon our successful training programme, with a focus on multidisciplinary and transferable skills in the quantitative sciences

- To provide expert input to government and international agencies to inform policy on environment and health at a national and international level

- To work closely with scientific peers, stakeholders in government and industry, and with public, advocacy and patient groups to ensure that our work is transparent and responsive, improving the understanding of key issues affecting our society

In addition to these main research topics the Centre has two other priority activity areas:
Development of the next generation of researchers and research leaders in the field of environment and health, through a high-quality
training and mentoring programme
Translation into policy of key research findings
, through provision of expert input to government and health agencies on environment and health issues